Remediation Group, Inc. (RGI) is a fully licensed Environmental, Restoration, Remediation & General Contracting firm located in the heart of Atlanta. 24 hours a day, 7 days a week, we are readily equipped to respond to your Water or Fire Damage Emergency, Mold Removal, and Reconstruction needs.
Since 2002, our mission has been to prevent further damage from occurring to your property by putting a swift plan into motion and providing you with a partner as you navigate through your loss.
Our Vision
We are motivated to be a comfort to those in need and to provide a sense of peace during a time of catastrophe or worry. We know our services are never wanted until they are needed, leading our people to actively strive in being your question answerers, emotional supporters, industry experts and solution seekers.
Our Certified Professionals
Our team of certified restorers, water loss specialists, and mold remediators are trained to follow an organized plan with scheduled priorities and disciplined procedures. With our state-of-the-art revolutionary drying techniques, we are the only remediation service worth your recovery dollars. We will save you thousands of dollars in ongoing recovery repairs. The key is response. The sooner you call Remediation Group, Inc. to respond to water damage emergencies, the sooner we can act to overt long term problems in your facility.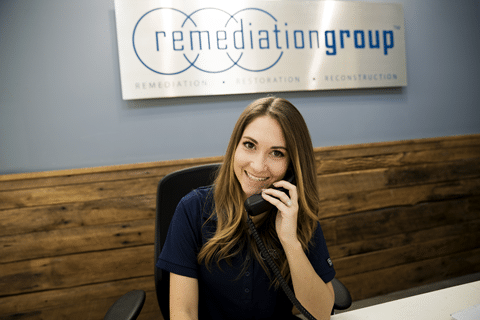 Certified and Qualified
Headquartered in Atlanta, Georgia, Remediation Group employs the remediation industry's top Certified Mold Remediators (CMR), Certified Mold Remediation Supervisors (CMRS), Certified Structural Drying Supervisors (CSDS) and Licensed General Contractors (CGC).
We Ensure All of Your Needs Are Taken Care of From Start to Finish
Our teams are trained to conduct thorough property evaluations, estimate jobs, interpret third party protocols, architectural plans and manage remediation, restoration and reconstruction projects from start to finish. We are fully insured for general liability, Workers' Comp and contractor pollution coverage.
We Respond When You Need Us.
Whether you're a home owner or commercial business,
we can help with your projects and emergencies.
Why Choose Us?
● Certified Team
● Urgent Response Time
● Free property evaluations & estimates
● Live Specialists Available 24/7
● We ensure all of your needs are taken care of from start to finish